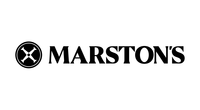 Marston's PLC
Why Marston's?
We've been running pubs and brewing beer in one form or another for more than 185 years – a heritage that we're incredibly proud of! Today we operate more than 1,400 pubs, bars and hotels across England, Wales and Scotland.; ranging from traditional locals and family pub restaurants, to fashionable town centre bars.
Marston's is going through a huge amount of transformation and change right now, under the leadership of a new CEO. We've got a new and very clear commercial strategy, as well as a set of behaviours, aligned to our culture & values. So, if you're contemplating finding out whether Marston's might be the right place for you, there's lots in place to help you make the decision.
Our future plans are built around a commitment to improving and growing as a business. We have an ambitious investment programme to refresh, update and transform our pubs and are investing in our people through industry-leading training technology and a career path accessible to all. It's a great time to be part of the Marston's family.
Twelve great reasons to partner with Marston's
Marston's are a nationwide pub company with a heritage of over 180 years and a portfolio of 1400 pubs of all descriptions, from hotels and community locals to premium food houses.
We offer a range of different agreements, each designed to provide the perfect combination of support and flexibility to meet your needs. We've been operating our Retail Agreements for over 10 years so consider ourselves experts!
We are committed to growth, investing in our future through an ambitious programme to refresh, update and transform our businesses.
As a responsible employer, we partner with the Licenced Trade Charity to offer wellbeing support to our employees and partners.
Our Pub Partners have access to an excellent induction programme and our teams also offer a comprehensive range of training courses designed to provide a lifetime of support.
Industry-leading training technology including our Learning and Development platform, Campus, offering training and HR tools and resources for our Pub Partners.
Some agreements also include membership to the British Institute of Innkeeping (Bii) a charity which offers professional advice and support on all areas including legal advice, HR guidance and tax information.
Our Partners are supported by our Pub Support Centre of over 400 experts, including Marketing, Finance and Estates amongst others.
We're proud to be an inclusive employer, partnering with industry recognised groups, programmes and schemes such as Women in Hospitality Tourism and Leisure as well as Stonewall.
We're proud to support our communities through local and national charities such as our partnership with BBC's Children in Need.
Marston's is committed to doing its part for the environment, whether it's increasing the number of electric car chargers at our pubs & inns, achieving zero waste to landfill or using 100% recycled garden furniture.
Be part of the best team in the industry. There are all kinds of people running Marston's pubs from a wide range of backgrounds. What they have in common is that they're all guest-obsessed, full of energy, and truly dedicated to making their pubs the beating heart of the community.