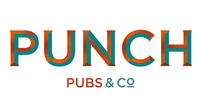 Punch Pubs & Co
We are a group of around 1,300 incredible pub businesses in the UK. Punch was born in 1997 and quickly began to expand by acquiring some great brands. Over the last three years we have invested over £90m into our pubs as well as develop our industry leading training academy & state of the art development kitchen.
At Punch we love pubs in all shapes and sizes – the sports pub, the gastro pub, the pubby pub…your pub! Our pubs are places where everyone is welcome. And so is our business. At our core, we're about treating people with the warmth and hospitality they'd expect in any of our pubs.
From a warm reception at our Welcome Inn and hands-on training at The Academy in our Head Office in Burton-on-Trent (our state-of-the-art training space with two fully working bars and a live cellar), to innovative online courses, regular catch ups and marketing support that packs a serious punch, we're with you every step of the way.
Our goal is to help you and your pub to achieve your true potential, not just when it comes to selling more beer or delivering a better bottom line – its bigger than that – its about outstanding Publicans, busier pubs and more connected communities.
As a Punch Publican, you can count on the best support in the business, delivered with a smile.
Here at Punch, we have different styles of agreements from Flexible & Turnover Tenancy & Leases to Management Partnerships. Our Leased & Tenancy division offers a choice of high-quality pubs which range from your local community pub, drinking pubs to food destination pubs.
Whilst our Management Partnership pubs are available in three different concepts –
Mighty Local – the heart of the community, bringing guests together in a relaxed, welcoming and friendly environment.
Our Local – A familiar and homely retreat which the guests refer to as 'their local' the perfect place for every occasion.
And lastly, Fireside – an upmarket pub with a high standard of service, quality food and drink with a story, set in a stunning environment.
We're a business built around our people and pubs, putting you at the heart of everything we do. Our people are what makes our pubs so amazing and all of our pubs are run by enthusiastic, passionate people who are committed to running a successful business.