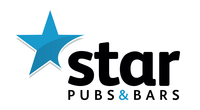 Star Pubs & Bars
BEHIND EVERY GREAT PUB & BAR IS A STAR
Star Pubs & Bars own 2,400 pubs and have been helping great licensees create the greatest pubs for years. When we find exceptional people, we back them with the industry-leading support you'd expect from one of the world's largest brewers. HEINEKEN is a truly global company operating in over 70 countries and owning a portfolio of over 300 beers and ciders. Taken together we call it our 5 Star Promise and it's our commitment to helping you do what you do best: being the star behind your pub or bar.
Our approach is simple: you're the one with the vision and the talent, our job is to help you make it a reality.
At Star Pubs & Bars, we're committed to working with you to ensure you and your pub are well looked after by providing you with quality support whenever you need it. Whether it's cutting your costs with our Star Support supplier discounts, Buying Club, or developing your skills on our Innside Track support scheme, we aim to make you and your pub as successful as possible for years to come.
To help you and your pub succeed, we offer a choice of agreements, carefully tailored to different levels of experience and the type of business you may want to run.
The pandemic highlighted the power of working in partnership. Star Pubs & Bars has invested in supporting our licensees through the pandemic since March 2020. Including, £62m in rent concessions, to help with cash flow during lockdown. Health and safety guidance, easy-to-deliver food menus and £250,00 on safety and social distancing point of sale materials were available for our licensees. This support is in addition to our funded British Institute of Innkeeping (BII) memberships for our core leased and tenanted estate to give licensees access to additional services, professional impartial advice, and sales building support.
Ever dreamed of running your own pub? Or wish you had a bit more independence to carve your own path in the pub world? Many in the hospitality industry share that same ambition, but it isn't often realised. Starting a new business venture from scratch can have its challenges but having an experienced team to lean on can help support you through the process. A team like Star Pubs & Bars.
There are several ways to run your own pub business: becoming a tenant, taking on a lease, signing up to a management agreement or purchasing a pub outright (freehold). Often this means decisions are dictated by prospective publicans' finances, knowledge and experience – freeholds aren't cheap! With a Star leased or tenanted agreement, you can take on an existing pub and utilise the support and knowledge of an established pub company to get your business up and running with lower personal financial contributions.
However, it's important to remember, not all leased and tenanted agreements are the same. Star Pubs & Bars focus on supporting talented licensees and their ambitions through our '5 Star Promise'. You're the star with the vision and the talent, and Star Pubs & Bars is there to offer you the support you need to shine.
5-STAR PROMISE
Our Fixed Rent Promise
None of our agreements have annual rent increases. It's that simple. Complete peace of mind and one less headache guaranteed.
For tenancies and Business Start Up agreements, at the end of your three or five-year term we will agree a new rent. For Full Repairing and Insuring agreements, we will agree a new rent every five years. So, you can keep planning your business with certainty.
Our Investment Promise
When we find exceptional publicans, we put our money where our mouth is and support them with the investment they need. In the last few years alone we've spent £200 million on pub refurbishments to back our licensees' visions.
That investment includes state of the art technology that sets publicans up for the long term - like Smart Dispense, our environmentally friendly cellar system - which saves CO2 and water, as well as time, with every pint of beer and cider served. Because your long-term success is ours too.
Our Marketing & Support Promise
We back every single Star licensee with our industry-leading retail and promotional support.
From tailored Point of Sale marketing to food and menu builders, we'll get more customers into your pub, spending more, more often. Which all adds up to more profit in your pocket.
Our Freedom Promise
At Star, we understand it's your pub or bar. And you'll want to do things your way. We give you the freedom to buy your wines & spirits wherever you want, giving you total flexibility.
Or, if you prefer, you can take advantage of our buying power and get great prices and exclusive offers on over 500 iconic brands. It's the best of both worlds. Pure and simple.
Our Fixtures & Fittings Promise
We believe that the expense of starting a pub shouldn't lock out the most talented licensees from making their vision a reality.
So, on our tenancies and Business Start Up agreements we significantly lower your start-up costs by owning the big-ticket fixtures and fittings items. It means things like floor mounted kitchen ranges, fryers, fridges, freezers and fixed furniture are owned by us, maintained by you and replaced by us at the end of their useful life. Freeing up your cash for those all-important early months of trading.