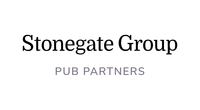 Stonegate Pub Partners
Originally formed in 2010 with 333 pubs, Stonegate Group is now the largest pub company in the UK following 12 major acquisitions. Our vast portfolio is now home to over 4,500 sites which range from Leased & Tenanted to Managed. We strongly believe that the pub is the heart of the British culture and we strive to deliver fantastic customer experience.
Stonegate Pub Partners, our Leased & Tenanted estate, consists of over 3,000 pubs assisted by a large pub support team dedicated to supporting and empowering our publicans to run a great pub business.
We are committed to providing our publicans with exceptional levels of service and support, our people with a great place to work and our suppliers with a trusted partner to do business with.
Our model makes a pub business more accessible than the purchase of a freehold pub, while providing the same feeling of ownership, autonomy and pride that come with building your own success.
Leases Tenancy ranging from fully tied to FOT.