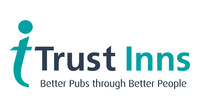 Trust Inns
Trust Inns was established in 1995 and is a privately owned company. We currently own and operate over 340 pubs across the country that are each as unique as the team who support them; from traditional to contemporary, from rural to high street, there's something to suit everyone.
You may not have heard much about Trust Inns. That's because we're one of the few privately owned pub companies of our size and we don't have to spend unnecessary time being seen in the media to keep our shareholders happy (because we don't have any)! Instead we can concentrate on doing what we do best; supporting our lessees. And because we're privately owned, Trust Inns can make decisions quickly for entry to one of our pubs and be more flexible in terms of the investment levels required.
"Better pubs through better people" is our motto because we're passionate about putting the right people into the right pubs. As a result many of our successful licensees have come from completely different careers and backgrounds but have made their vision work with our support.
Trust Inns understands that each and every one of our lessees and their respective pub businesses are unique. We also know that a well supported lessee is a successful lessee. So it should come as no surprise to hear that at Trust Inns we tailor make all our business support tools to suit our lessees' individual needs, with as little or as much hands on help and advice from a personal Business Development Manager as needed. We're currently adding to our business support offer all the time along with growing our estate of viable pub businesses. In 2021, we added 5 new sites to our portfolio and intend to increase that figure considerably over the next 12 months and beyond.
At Trust Inns we believe that one approach is not necessarily suitable for all, which is why we pride ourselves on our great range of competitive lease agreements, business support packages and unique pub business opportunities. For at Trust Inns you will find that regular and scheduled meetings with your Business Development Manager will ensure that we get to know you and your business from day one, offering as little or as much support as you may need.
Combine that with a competitive off invoice discount rate on selected beers and lagers and the ability to assign your lease after 12 months as well as a comprehensive training support offer and we feel confident that we can find the right pub and right offer for you.
To be considered for a Trust Inns' pub you do not need to have pub experience, just bags of initiative and a desire to succeed. So whether you're new to the business or an experienced pub operator, we promise to be quick and decisive when it comes to helping you find the pub that is right for you.